The Paper Valley Roller Girls are accepting new skaters and refs NOW! Are you 18 or older? Are you looking for a challenge? Are you looking to be part of something spectacular? Haven't skated since you were a teenager - NO PROBLEM!
We are staffed with an excellent coaching staff and veteran skaters to show you the ropes to get you derby ready! All you'll need to start is a little courage, a helmet and $3/session!!
We're just entering our off-season which is a great low-pressure time to try out derby. Practice times and locations sometimes vary during the off-season.
If you're thinking about coming by a practice, we'd love to hear from you first! recruiting@papervalleyrollergirls.com
==Jan-Sep, Regular Season Practice Times==
Tues/Thurs - 7:00-9:00pm
Sunday 6:30-8:30pm
@Skater's Edge
5714 Integrity Way, Appleton
Mon - 7:00-9:00pm
@St Mary's Roller Rink
1265 Cass Street, Green Bay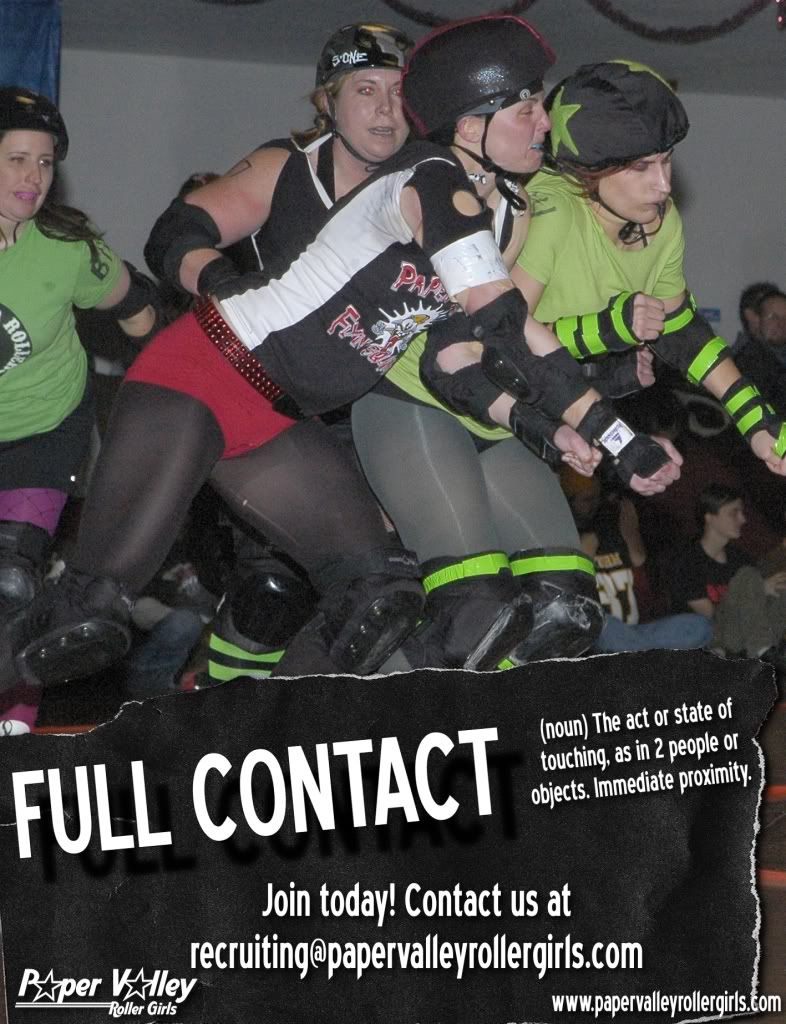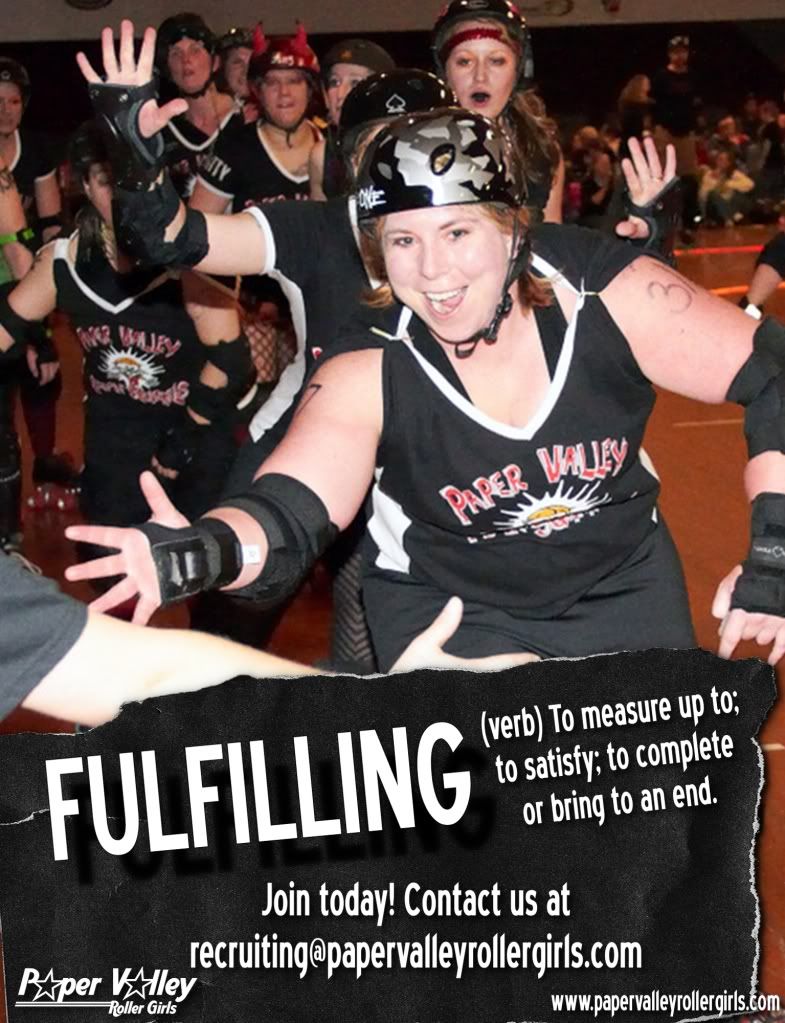 What are you waiting for? Contact us at recruiting@papervalleyrollergirls.com with questions. Better yet, come to practice so that you can spend some time with us and ask questions of us. You'll find we come in varied shapes and sizes, ages, backgrounds and abilities, but we share one thing in common - a love for roller derby!
---
Recruiting FAQ
Q: Roller Derby sounds fun. Can I try it without commitment?
A: Sure. Come out and meet us, skate with us and ask questions. We're confident you'll love it. If you don't, you're only out a little bit of time and $3/Session. You'll be taking a bigger risk by staying home and missing out on the chance to be a part of something spectacular.
Q: I'd like to try it, but I don't have skates or pads!
A: Don't worry. We can hook you up with rental skates until you're ready to buy your own. We also have an assortment of pads you can borrow. When you fall in love with derby and are ready to buy, derby girls love to talk about their equipment. Ask us for recommendations and where we get "derby discounts"!
Q: I haven't skated for years. There's no way I could play Roller Derby, is there?
A: Many of our skaters had not been on skates in many years before they joined the league. A few had never been on skates. Our coaches/trainers will work with you to acquire the skills necessary to play safely and effectively.
Q: Isn't Roller Derby dangerous?
A: Like any sport, the chance of injury is present. We don't think Roller Derby is any more dangerous than other contact sports, like hockey for example. Our coaches/trainers work diligently with our athletes and injury prevention is always a top priority. We even have a chiropractor who volunteers his services at many of our practices.
Q: After I join, how long will it be until I actually play?
A: It depends. Every individual is different. Your safety is paramount. We won't compromise your safety or the safety of others skating with you by putting you in situations you aren't prepared to handle. Our coaches/trainers will work with you to acquire the necessary skating and derby skills.
---
Copyright © 2008-2012 Paper Valley Roller Girls - Appleton/Green Bay, WI
Proud member of the Women's Flat Track Derby Association